Stem Cell Treatment for Cancer (Dendritic Cell Immunotherapy)
Our Stem Cell Treatment for Cancer involves Dendritic Cell Immunotherapy*, a highly effective autologous cellular treatment that employs the use of dendritic cells, natural killer cells (NK cells), and lymphokine-activated killer cells (LAK cells) to suppress and eliminate malignant cancer cells at higher rates that traditional medicine and other alternative treatments without the use of chemotherapy to avoid toxic side-effects.
Dendritic cells (DCs) are the most potent antigen-presenting cells, and tumor antigen-loaded DCs (DC-vaccines) can activate tumor-specific cytotoxic T lymphocytes (CTLs) in lymphatic tissues. DC vaccination is a potent form of cancer immunotherapy and has relevant mechanisms of action. Cancer Immunotherapy is a medically approved cancer treatment that has become one of the preferred cancer management therapies used by today's top oncologist based on its high efficacy and synergistic capability.
*Other common names used for this cellular therapy are immunotherapy, autologous cellular therapy, anti-cancer vaccines, autologous dendritic cell immunotherapy, differentiated stem cell therapy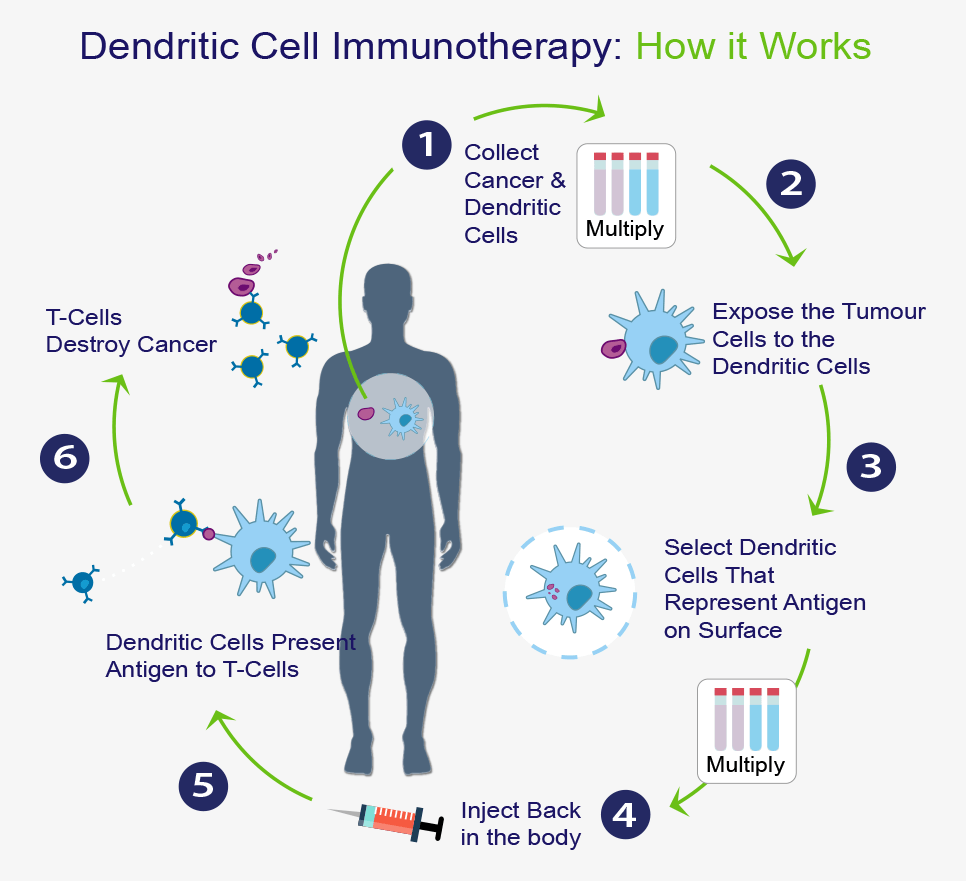 Stem Cell Treatment for Cancer FAQ's (Natural Killer Cells, Dendritic Cell  and Immunotherapy)
Cancer patients from all over the world visit our Hospital in Tijuana, Mexico for the only certified stem cell treatment for cancer using Dendritic Cells, and Natural Killer cells to fight cancer successfully at much higher rates than with conventional chemotherapy and radiation.  Our functional oncology program lead by Dr. Ariel Perez has earned high remarks within the medical community and continues to help cancer patients from all parts of the globe.
Dendritic cell therapy works best as a synergistic therapy with treatments such as hyperthermia but cannot be combined with other therapies like IPT. Immunotherapy's proactive nature has made it highly successful where other therapies have fail without the toxic side-effect of chemotherapy. Patients are also required to be off chemotherapy for at least 4 weeks before and 2 weeks after this treatment. For more information about this, please talk to our doctors that will provide a detail treatment plan that is right for you.

Stem Cell Therapy Mexico Patients

Our patients are our biggest advocates, listen to their stories,
questions, doubts, experiences.
Stem Cell Treatment Center in Tijuana, Mexico
Chief Medical Director Dr. Cesar Amescua
Stem Cell Therapy Mexico is the leading and most trusted name for stem cell treatments in Tijuana, Mexico. We help patients of all ages from around the globe, who suffer from complex illnesses and health conditions, which are believed not treatable through conventional medicine
Request a Free Evaluation
Receive specialist evaluation in less than 48hrs.